VW Van Conversion
VW Van Conversion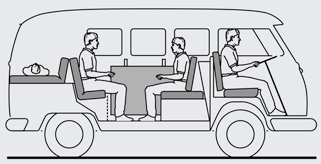 4th-year School of Design project by Steve Hines
Assignment: Adapt a VW bus to provide sleeping and storage space for two couples and a small child.
---
Modes:
• While driving:  Two bench seats face the conversation area in the back.  The rear-most area, beside the closet, is heavily padded for a small child.
• At night:  The wall-mounted table and seat backrests hinge up to form the upper twin bed.  The lower twin bed is made by straightening out the forward-facing rear seat, which is split and could be used in a combination seat and single bed.  The child is given the bed made from the rear-facing seat cushion.

| | | |
| --- | --- | --- |
| Cardboard model of proposed layout. | Removing old interior of VW bus. | |

| | | |
| --- | --- | --- |
| Class presentation to Prof. Harry Macke in white shirt. | Steve Hines wearing clothes matching the interior, for the presentation. | Helper, ready for the beach. |
      The design provided maximum flexibility for the occupants.  A closet was fitted to the right-rear wall (not shown), leaving room for the padded child's area.  Note the split seat (lower-right photo) allowing one half to be used as a bed while the other half of the seat could be used as shown.  Sliding curtains provide privacy at night.
---
      This project is shown only as an example of past industrial design.  HinesLab currently offers consulting in the area of industrial design, novel engineering solutions as well as a variety of licensable technology.
Please contact Steve Hines at: