Non-Electrical Light Mouse
     Non-Electrical Light Mouse    

.
.

      A non-electrical computer mouse that works on any surface, communicating with the computer using light rather than electrical signals.  The Light Mouse is a passive device with few parts, making it inexpensive to manufacture.  The Light Mouse is not to be confused with an optical mouse which requires a cord or recharging.  
| | |
| --- | --- |
|       Infrared energy (shown as white light) radiates from the computer to an opening in the Light Mouse.  Optics in the mouse separate the white light into narrow wavelengths which are modulated on and off by the rotating chopper wheels as the mouse is moved.  The signals are retro-reflected out of the mouse and back to the computer, acting as an open-air spectrometer.  The computer turns them into cursor movements.   | |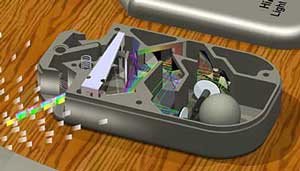 Optical Layout: Light enters the mouse and makes several reflections to enter a dark chamber where it is diffracted into colors which are reflected and focused at the slots of chopper wheels, and then retroreflected back out of the mouse to the computer.  
---
Features of the Light Mouse™
No cord is used between the mouse and the computer.

No mouse pad, or special surface, is required.

All of the electrical parts, normally associated with other ball mice, are eliminated from the Light Mouse (however, are relocated in the computer).
Most of the optical components used in the Light Mouse are molded as part of the housing, reducing costs.
The Light Mouse controller (light source and detectors) is compatible with any USB computer (Mac, PC, etc.).
The Light Mouse emits no electrical radiation.
No battery, therefore:
a. Reduced cost of the mouse.
b. Reduced weight and fatigue.
c. No batteries to replace.
---
      Retro-reflectors return light back to the source, like animal eyes or a bicycle reflector.  In the pictures above, animal eyes retroreflect the photographer's light back to the camera.  When the animal blinks, the return signals turn off and on cleanly creating square waves.  This Light Mouse is an "animal" that blinks in five colors.
---
Comments about the Light Mouse:
"It's a very clever design.  I'm sure you'll find you have a number of optics folks looking for this gee-whizzy mouse."  Kristin Lewotsky, editor, Optical Engineering Magazine, July, 2003
"His use of optics is quite clever and I wish him good fortune in pursuing a market for the device or the technology."  Jon Titus, member, National Association of Science Writers, August, 2003.
"Just a note to express my admiration because I sincerely I find your optical mouse patent inspiring, and your achievements listed in your biography on your website is awesome."  Anil Philip, April, 2005.
---
For more information:
The Desert Sun

 (Palm Springs, CA), p. E1, Dec. 3, 2001.

Focus Magazine (Poland), Dec. 2001, p. 30.

Popular Science

, Nov. 2001, p. 20.

Awarded NASA Tech Briefs merit prize, March, 2003

oeMagazine

, Sept. 2003, p. 30.
---
Hines' original lab notebook #1 entries for this invention.
---
      HinesLab is actively seeking licensees to commercialize this technology.  This is not a product being offered for sale to end users.  To discuss licensing, please contact Steve Hines at: