Cylindrical Infinity Display
Cylindrical Catadioptric Infinity Display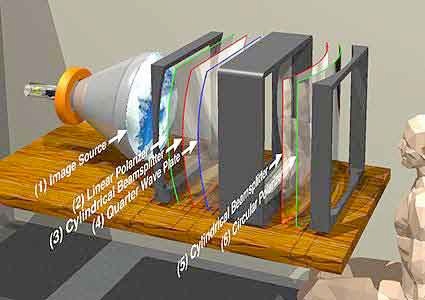 Developed by Steve Hines
Provides a compact light-weight infinity displays for professional flight simulators at a fraction of the usual cost.
---
      Infinity optics create an apparent image of a display screen at an infinite optical distance, through a window.  Catadioptric infinity displays have the advantage of being extremely thin and light weight.
     Conventional catadioptric infinity displays cost approximately $70,000 due to the expense of grinding and coating a spherical beamsplitter.
      The HinesLab Infinity Display uses innovative cylindrical optics incorporating bent flat glass and which are inherently strong due to their curvature, at a fraction of the weight.  
Catadioptric Infinity Optics
HinesLab Infinity Window
conventional infinity window

(1) Image source

CRT, or rear projection screen

(2) Linear Polarizer

common to both

(3) Beamsplitter

Cylindrical (inexpensive, thin,   

light-weight float glass)

expensive thick, heavy, ground

& polished spherical surfaces

(4) Quarter-wave plate

common to both

(5) Beamsplitter

Cylindrical (inexpensive,thin,

light-weight float glass)

thick, heavy & flat

(6) Circular polarizer

common to both
Colors in the chart correspond to parts in drawing below.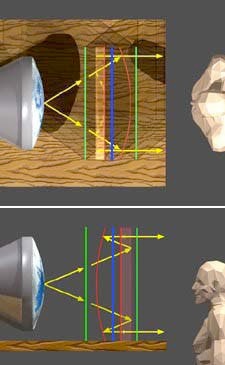 In all preceding diagrams, the optical elements are shown spaced apart for clarity.
---
      Virtually all internal reflections are eliminated by laminating the five optical elements into two groups, improving contrast.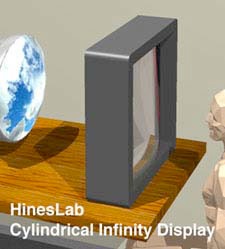 ---
      The HinesLab Cylindrical Infinity Display can be made at a price for entertainment applications, such as in theme parks and arcade games.
---
| | |
| --- | --- |
| p.31 | p. 33 |
Hines' original laboratory notebook entries for this invention.
---
      HinesLab is actively seeking licensees to commercialize this technology.  This is not a product being offered for sale to end users.  To discuss licensing, please contact Steve Hines at:
USA
email: Steve@HinesLab.com
ph. 818-507-5812