Clean-Air Paint Sprayer
Vac-Spray
      This is paint-spray system which combines the conventional shop paint spray gun and air hose with a 2-1/4 inch diameter vacuum hose of the standard shop vac, to collect stray fumes that normally float off and create a health hazard.  Use the HinesLab Vac-Spray to catch the over spray at the source.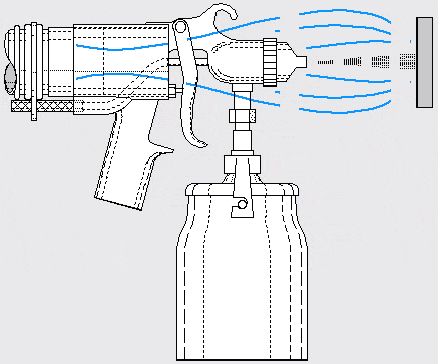 The Vac-Spray is an indispensable tool for auto body shops and furniture makers.
      For consumers and home use, there is a Vac-Spray with a 1-1/4" diameter hose of the home vacuum cleaner, for the standard spray-paint can.  As you spray, the fumes are pulled into the vacuum cleaner.
      In both models of the Vac-Spray, the opening of the vacuum tube is positioned to not interfere with the painting operation.  
---

Hines' original lab notebook entry for this invention.
---
     HinesLab is actively seeking licensees to commercialize this technology.  To discuss licensing, please contact Steve Hines at: