KidSafe™ Dresser Baseboard
KidSafe™ Dresser Baseboard
      The KidSafe™ baseboard creates a freestanding version of a conventional dresser without the need for wall attachment.  
---
      The KidSafe™ baseboard prevents tip over by providing support under the center of gravity which moves forward as drawers are opened.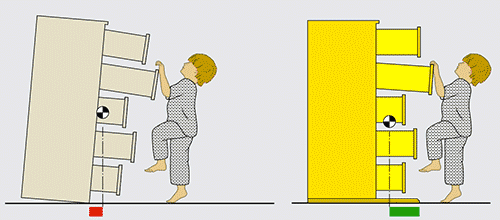 | | |
| --- | --- |
|       The problem:  when drawers are pulled out, the center of gravity moves forward of the front, and the dresser falls over. |       The solution:  The KidSafe™ baseboard extends farther than the shifted center of gravity, and supports the dresser.   |
      The KidSafe™ baseboard creates a freestanding dresser (chest of drawers) that will not tip from the weight of heavy drawers, even when all are fully extended.  This claim cannot be made about any dresser without the KidSafe™ baseboard.  
---
     The IKEA™ Malm 6-drawer chest, with all drawers fully extended, supports a maximum of 7-lbs. weight without tipping.

     The same chest with the KidSafe™ base supports 182 lbs. weight, with no indication of tipping.  This is a minimum of 

a 26x improvement!
---
      Wall anchoring kits, the only tip prevention offered to date, are seldom used.  Some people may

not have the tools or the time or the skill to install them.  Tenants do not want to damage a wall and loose their security deposit when they move.  Holes made in wallpaper are impossible to repair.  Some landlords prohibit holes in the walls.

The KidSafe™ dresser can be repositioned without leaving behind holes in the wall.
---
      Furniture that passes this industry-friendly test is allowed to display an ASTM label which states "Never open more than one drawer at a time".

      AHFA, ASTM Int'l., the CPSC, Consumer Reports, and UL conduct tip-over tests on chests with a 50-lb. weight added to one

partially-extended

 drawer.
      HinesLab conducted dresser tip-over tests on the IKEA Malm-6 chest, with the KidSafe™ baseboard, with

fully-extended

 drawers.  There was no sign of tipping, even with 182 lbs. added.
---
Message to parents

      When kids climb on dressers they're just playing.  They don't deserve to be injured for not knowing the physics of an unsupported dresser.  To protect your children, let your furniture maker and the CPSC know you want freestanding dressers (and cribs and bookcases) with the KidSafe™ baseboard, which is especially important in earthquake-prone areas.  
      Only the CPSC can write regulations that all furniture makers must follow.  (The tests done by ASTM Int'l. result only in recommendations that are rarely adopted by furniture makers).  For the sake of children's safety, contact the CPSC and stress the need for mandatory regulations for the whole industry:
Ann Marie Berkley, Acting Commissioner,  ph. (800) 638-2772
DeWane Ray, Deputy Executive Director, F2057-17,  ph. (301) 504-5907 
Consumer Product Safety Commission
---
The appearance:  It may be surprising to see a baseboard protruding from the front, however "Form follows function" is the principle of good design.  The baseboard is the element that has been missing that solves the tip-over problem.  It looks different but it also looks right because it is right, and it's the solution that will save kids lives. 
      The KidSafe™ baseboard is not in the way when using the dresser because the baseboard extends less than the open drawers.  The baseboard is easy to remove later if desired.  
---
Information and references:
Comments:
Nancy C., Kids in Danger, October 29, 2018
"The Concept that you propose is very interesting.",  Len M., ASTM Int'l., October 4, 2018
"Very Clever.",  Bob McK., October 2, 2018
"That is so impressive!",  Kym M., September 25, 2018
"Being a mother of two children, I have a soft spot for your invention. I think what you are trying to do is very, very important",  Jane C., September 20, 2018
"I love the project – truly clever design",   Matt D., September 12, 2018
"What a great invention with the potential to truly save lives!!",  Jane C., August 23, 2018
"I love your project… a must for families with children…",  Emre T., August 4, 2018
"Congratulations Steve! Great idea!",  Edik V., July 21, 2018
"Your design is a life-saver",  Valeria P., July 20, 2018
"Very practical solution",  Don I., July 19, 2018
"Great Idea",  Marty M., July 19, 2018
"Congratulations- that's a very neat solution",  Andrew W., July 19, 2018
"Having a dresser that won't tip over and kill a child sounds like a wonderful idea",  Elizabeth W., June 14, 2018
---
---
License Available
      There is no more cost effective way for furniture manufacturers to avoid law suits from furniture tip over than using the KidSafe™ baseboard, for dressers, cribs and bookshelves.  We invite you to contact us to discuss licensing the patent-pending KidSafe™ baseboard.
      The KidSafe™ pre-drilled and self-aligning baseboard can be attached to the bottom in minutes.

After-Market Kit

      The KidSafe™ base may soon be available for sale as an after-market product.  KidSafe™ base, model IM346 is compatible with the IKEA™ Malm 3, 4 or 6-drawer chest.  Bases for other dressers to follow based on demand (please contact us).  KidSafe™ bases to be available within the U.S. for $TBD + tax and shipping.  
Currently in test mode.
---
HinesLab is not affiliated with IKEA™.
---
Glendale, California,  USA
email: Steve@HinesLab.com
ph. 818-507-5812