Kodak Tutor Terminal
Kodak Tutor Terminal
      This was internal Kodak equipment for developing teaching techniques in the Learning Systems Lab at the Kodak Research Laboratories in Rochester, New York.
      The objective was to allow two people to work independently using a single screen and two "Tutor Terminals" housing 35mm Carousel projectors and audio tape players with headphones.  
      The highly directional property of the Kodak Ektalite projection screen was exploited to allow two images to be simultaneously projected onto a screen, so that each user saw only the appropriate image projected for that person.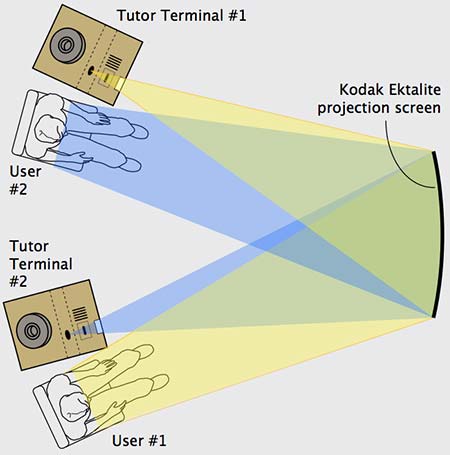 The Ektalite screen normally had a 40° horizontal spread angle, but only 10° vertically.  Steve rotated the screen so that the horizontal spread angle was 10°.  The images from both projectors were reflected within a very narrow horizontal angle to allow each viewer to see only the correct image.  
      This project is shown as an example of past industrial design services.  HinesLab currently offers consulting and a variety of licensable technology.  
---
Please contact Steve Hines at:
USA
phone:  818-507-5812
email: Steve@HinesLab.com