Hurricane-Resistant Roof
Hurricane-Resistant Roof
Wind lifting roofs off houses without tie-down cables.
      This is a safety upgrade that ties house roofs to the ground somewhat like camping tents that are staked to the ground.  When you learn of a tornado or hurricane, you will not have time to protect your house before the storm comes.  This simple precaution gives your house a much better chance of surviving a storm.
      In a storm, typically first the roof lifts off, then the walls are blown down, and contents are destroyed and people can be injured.  By preventing the roof being blown off, this series of events can be prevented.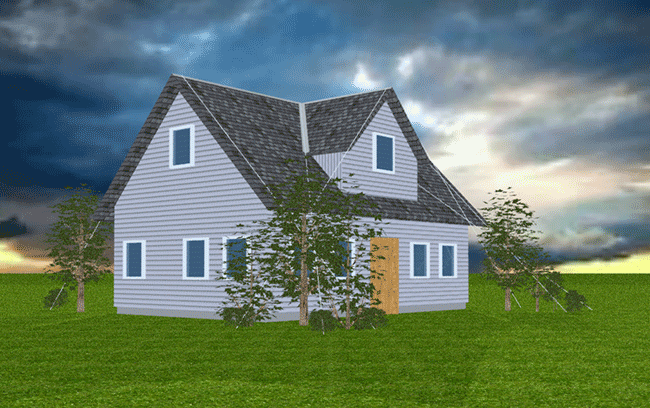 V-shaped metal angles cap the ridges of the roof.  Cables follow the angles of the roof down to concrete anchors in the ground.  
      This technique is simple, inexpensive and effective.  The cost of anchoring your roof may be paid for with reduced insurance premiums.  
| | | |
| --- | --- | --- |
| | | |
|       The V-shaped metal roof cap has pass-through holes that trap the cables.  Metal caps are made from angled stainless steel or extruded aluminum.   | |      Stainless steel cables attach to turnbuckles and concrete ground anchors.  Bushes can be planted near the cables to prevent anyone walking into them.   |
Stainless-steel cable strength:
1/8″ dia.,  300 lbs.

3/16″ dia., 650 lbs.

1/4″ dia.,  1,000 lbs.

3/8″ dia.,  2,300 lbs.

7/16″ dia.,  3,100 lbs.

1/2″ dia.,  4,400 lbs.
The appropriate size cable is chosen by the contractor for each application.
---
      HinesLab offers this technique as a social service to reduce personal injury and property damage from hurricanes and tornados.  Insurance companies are invited to promote, and contractors are free to start using the technique.  For questions, please contact Steve Hines at:
HinesLab
Glendale, California, USA
ph. 818-507-5812
email: Steve@HinesLab.com