Folding Boat
Folding Boat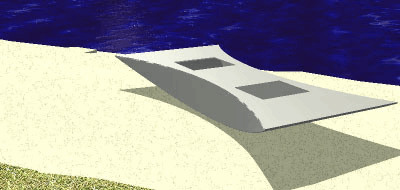 The School of Design, at North Carolina State University in Raleigh, held an annual boat race where students and professors could enter any wacky design that could float.  This was the entry by Steve Hines starting with a 4×8-foot waterproof panel, with the sides scored and folded up vertically.  
The design was tested with single-face corrugated paper which was not up to the job.
---

The boat was rebuilt using Masonite, cut and glued together, with a top sheet added for stability.
---
Glendale, California, USA
email: Steve@HinesLab.com
ph. 818-507-5812