Disney 3-D Camera Rig
Disney 3-D Camera Rig
| | |
| --- | --- |
| Awarded the International 3D Society Lumiere Trophy | |
      The Disney dual-camera 3-D Rig developed by Steve Hines in 1980-81, for shooting 65mm stereo motion pictures, is owned by Walt Disney Pictures.  The Disney rig is the original dual-camera 3-D rig to use cameras in the compact forward-and-down arrangement.  No modification of the cameras' shutters is required.  
      This camera arrangement allows the beamsplitter mirror to be relatively small, while allowing use of wide-angle lenses.  Hines' patent covers the independent adjustment of the amount of depth, and of the off-screen position during the shot.  Adjustments are independent, meaning that the 3-D depth can be increased during the shot without breaking frame of an object at the screen plane.  
---
Disney 3-D Rig Features:
Interaxial: 0 – 4 in.

Convergence: inf. – 4 ft.

Independent Interaxial and Convergence adjustment

Weight: 79 lbs. +cameras

minimum focal lengths: 40mm on 65 cameras.
Adapters for:
Mitchell FC 65mm cameras.
---
Disney Rig development: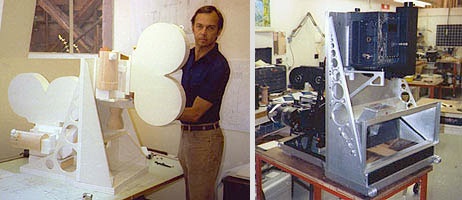 Steve Hines with cardboard mock up, and in the trial assembly stage, August 1981.
Publication of photos approved by Dick Fox, Director of R&D, wed Enterprises, Jan. 30, 1984.
---
Disney Rig on location:

Disney back-lot tests, August, 1981 with Paul Ryan, DP, and Murray Lerner, director of "Magic Journeys"
---
Disney 3-D Rig films shot with the dual-camera rig:
"Magic Journeys" for EPCOT Center, Orlando, Florida
"Captain Eo" for Disneyland, Anaheim, California
"Muppetvision 3D" for Disney/MGM Studio Tour, Florida.
"Honey, I Shrunk the Audience" for Disney/MGM Studio Tour in Florida, & Disneyland in Calif.
---
Comments:
"Steve's rig worked perfectly, and with the use of 65mm/70mm film, a new benchmark of 3D excellence was achieved", Don Iwerks, Nov. 2, 2020
"Working with you at Disney on the 3D "Hines Rig" was a real privilege and a once in a lifetime opportunity.", Marty Prager, Sept. 7, 2020
"Steve did a great job from concept through conclusion. He visualized what we needed to do and got the job done."  Don Iwerks quoted in American Cinematographer, February, 1993.
"What we wanted to do was dream up all the 3-D gimmicks that we could and then figure out a way to put them all into one short film", Jim Henson referring to "Muppetvision 3-D" in Stereo World magazine, May/June, 1991.
"Captain EO: it is a triumph of high-tech wizardry."  Time Magazine, Sept. 22, 1986. Exec. producer: George Lucas. Director: Francis Ford Coppola.  1986
"A film with three-dimensional effects so realistic that members of the audience grab at the air to try to touch images that seem to leap off the screen" The New York Times in reference to "Magic Journeys".  1982
"They applauded as incredibly clear 3-D images jumped out from a movie screen.  Children squeal with joy" Christian Science monitor in reference to "Magic Journeys".  1982
"Because of the Disney-proprietary linkage concealed within a hollowed out cavity in the rig's base plate, it was also possible to independently adjust the convergence and interocular spacing" Bob Fisher in the Feb. 1983 American Cinematographer.  1982
"Steve designed the system in record time– working days, nights and weekends.  He followed the project through manufacture, assembly, testing and production shooting in a very thorough manner.  It was a pleasure to work with Steve and I look forward to new projects that we can mutually share." from Don Iwerks, head of mechanical engineering at Walt Disney Pictures to Marty Sklar, V.P. at wed (Walt Disney Imagineering), 1982.
"Pure genius", referring to the "unorthodox arrangement of the two cameras", Bob Otto, Chief Engineer, Disney Pictures. Sept. 1981
---
For further information, see:
American Cinematographer magazine, Feb.1983, p. 63-64, 84-90
CineFex magazine, "Design of Disney's 65mm dual-camera 3-D rig", p. 63-64, & 84-90,  Feb. 1983
---
      This is not a product for sale, but is shown as an example of innovation by Steve Hines, who now offers consulting.
HinesLab
USA
email: Steve@HinesLab.com
ph. 818-507-5812