BiClops™ 3-D Camera Rig
BiClops™ 3-D Camera Rig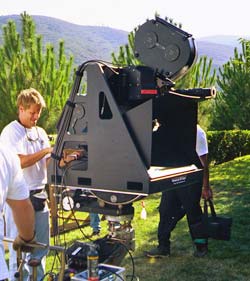 The BiClops™ 3-D rig developed by Steve Hines for shooting 8 and 15-perf 65mm large-format film for IMAX and Iwerks theaters.
      The BiClops™ dual-camera rig is a simple, rigid 3-D rig. Cameras attach securely.  Wide angle-to-telephoto lenses can be used.  Interaxial and convergence adjustments are made manually.  The BiClops™ rig supports MSM-870 and MSM-9801 15/70 cameras.  Convergence settings are shown in a chart on the rig, or can be calculated with an available 3-D pocket computer.
---
BiClops™ Features:
Interaxial: 0 – 4.5 in. to control the amount of depth.

Convergence: inf. – 4 ft. to control the image position off the screen.

Weight: 75 lbs.

Minimum focal lengths: 40mm on 870 & 1570 cameras.
---
Adapters for:
MSM-870, available from Iwerks Entertainment
MSM-9801, 15-perf, 65mm camera.
Rental Rates: Please contact HinesLab for current pricing
---
Optional equipment:
      An optional 3-D Video Viewfinder, a 3-D video assist, is also available which provides valuable information when shooting 3D. Color monitors show objects floating off the screen, or breaking frame lines.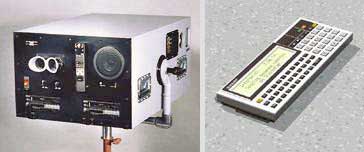 ---
BiClops™ on location; "Encounter in the Third Dimension", Sean Phillips, director.
---
Filmed with the BiClops™:
"Encounter in the Third Dimension" by New Wave Production.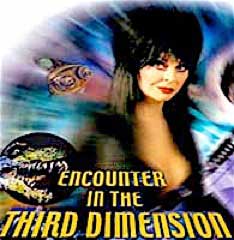 * For further information, see:
Stereo World magazine:
Nov. Dec. 1998, shooting "Encounter in the Third Dimension", p. 17, 20.
---
For rental information, please contact Steve Hines at:
Glendale, California, USA
email: Steve@HinesLab.com