Auto-stereoscopic 3-D TV
Auto-stereoscopic 3-D TV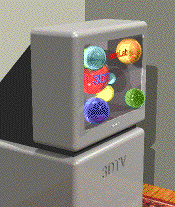 HinesLab "3-D TV", a 3-dimensional video display that provides true stereoscopic images, without glasses.  Several viewers can move comfortably in front of the display, seeing true stereo images with motion parallax.  Applications include 3-D television, 3-D video arcade games, scientific, medical and avionic displays.

Images used in 3DTV demonstrations at HinesLab.
      The HinesLab 3DTV is built around a single liquid crystal panel, on which multiple images are arranged and projected to a rear-projection screen where they form the 3-D image. Stereo and motion parallax allow the viewer to confirm the positions and roundness of objects as the observer changes positions.
---
HinesLab 3DTV advantages over other stereo displays:
No 3-D glasses to become broken or lost, no reflective dots or head-tracked devices are required.  

3DTV provides from 3 to 21 eye positions, providing lateral head freedom and look-around ability, confirming the position and shape of objects.  The user can sit comfortably in front of the monitor, with freedom to move within the viewing space.  It is not possible to see pseudo-3D (reversed depth) images as with lenticular 3-D systems.

The 3DTV signal can be broadcast by a single broadcast, cable, or satellite television channel.  3DTV images can be displayed live, or recorded and replayed in 3-D with a single DVR.

The device can be used as a computer display, with a single video board, for video arcade games, CAD workstations, scientific and medical visualization, or by air traffic controllers.

The 3DTV image can be projected to virtually any screen size and is not limited to the size of direct-view LCD's, nor is the illumination limited to the low light levels of CRT systems.

The 3DTV projects all images simultaneously, in full color, and creates no flicker.
---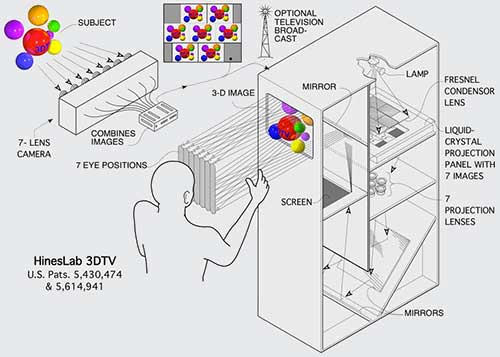 The 3DTV display can be produced economically because it uses a single LC panel and conventional optics.
      During product development, the OEM company can choose from several cost-vs.-resolution levels of technology (creating 3, 4, 7, 13 or 21 eye positions), and a range of viewing angles, limited only by available liquid-crystal technology.  The 7-image version provides higher resolution.  The 13 and 21-image versions provide more viewing positions.

Right …. (Cross-eyed stereo) …. Left ….. (Parallel Viewing) ….. Right
---
* For further information:
Journal of the Society for Information Display, Vol. 8, No. 2, 2000,  p. 171 & 176.

The Clock magazine, Mar./April 1997,  p. 17, 20 & 27.

Stereo World magazine, Jan/Feb, 1996, p. 12-15.

Electronic Display World, Vol, 15, No. 11, Nov. 1995,  p. 38-41.

Electronic Engineering Times, Oct. 2, 1995,  p. 2, 35, 38 & 40.

Stereo World magazine, Jul/Aug, 1995,  p. 25.




---
Hines' original laboratory notebook entries for this invention.
---
      HinesLab is actively seeking licensees to commercialize this technology.  This is not a product being offered for sale to end users.  To discuss licensing, please contact Steve Hines at:
Glendale, California, USA