3-D Photo Booth
3-D Photo Booth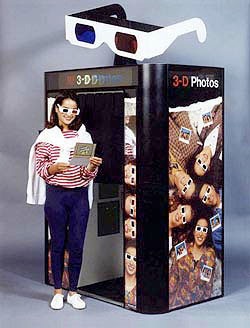 Manufacturing License Available
      A 3-D photo pooth developed by Steve Hines to produce a 3-dimensional color photo on large-format Polaroid film, and vend a souvenir photo frame with 3-D glasses.  The booths are provided with 3-D camera, interior light, lighted sign, sample viewer, bill receptor, and a 3-D background which enhances the depth.
      The 3-D photo booths are ideal for theme parks, vacation areas, the beach, shopping malls, ball parks, etc.  This is not a product for sale by HinesLab to end users, but rather 3-D technology being offered for license to photo-booth manufacturers.
---
Photo Frame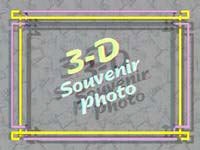 ---
---
Photo Booth Backgrounds:
Standard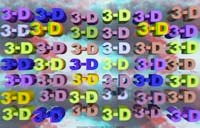 Custom 3-D backgrounds  

  (Contact HinesLab about your requirements.)
---
* For more information, see:
"American Photobooth" by Nakki Goranin, W.W. Norton & Co., Feb. 2008, pp. 72-73

EuroSlot magazine, June, 2002, p. 39.

Stereo World magazine, Nov/Dec. 1995, p. 28-29.
---
       This is a technology announcement and license offer, not a product being offered for sale to end users.  Photographic equipment manufacturers are invited to contact Steve Hines to discuss a manufacturing and sales license.