3-D Mini Camera Rig
HinesLab 3-D Mini Camera Rig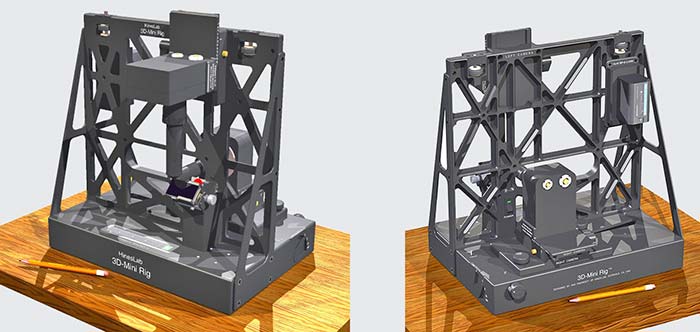 A dual-camera 3-D Mini Camera Rig developed by Steve Hines, with independent interaxial and convergence adjustments, shown with Silicon Imaging SI-2K cameras. The 3-D Mini Rig avoids the usual 50% light loss associated with typical 50/50 beamsplitters. Compared to typical dual-camera rigs, 3-D photography can be done with the 3-D Mini Rig using half the light, half the heat on the actors, and half the electrical generators, saving cost.
3-D Mini Rig Features:

Interaxial range: 0.5 – 4.5 inches.

Convergence range: inf. – 4 feet.

Independent Interaxial and Convergence adjustments.

Motorized or manual convergence adjustment.

Manual interaxial adjustment.

Interaxial and Convergence indicators.

Longitudinal-camera-position adjustment to optimize lens FOV.

Video-monitor attachment points.

Quick-release camera attachment.

Choice of 12V power by cable or rechargeable on-board battery.

Pitch adjustment.

Weight: approx. 7 lbs.

---
---
For engineering consulting, or to discuss technology licenses, please contact Steve Hines at:
​HinesLab, Inc.
Glendale, California, USA