Magnetic Saw Guide
Magnetic Saw Guide
The Magnetic Saw Guide is a woodworking tool designed by Steve Hines to help professional cabinetmakers and home woodworkers make clean cuts at compound angles using a handsaw.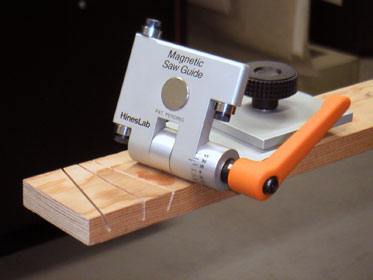 No need to carry a miter box, special saws or electrical power. The Magnetic Saw Guide sets up in seconds without tools, and uses your existing hand saw to make clean cuts at the compound angle you choose. The Magnetic Saw Guide is compact and rugged and folds flat for storage.
---


To use the Magnetic Saw Guide:

| | |
| --- | --- |
| | |
| Set the miter angle, then rotate the saw guide to keep the miter plate square with the wood, and tighten the miter plate with the know. Then clamp the saw guide to the wood. | Set the bevel angle from -45° to +45°, using the scale on the hinge, and tighten it with the side handle. Place a hand saw on the front of the Magnetic Saw Guide. |
The magnet "grabs" the saw making a satisfying 'snap' against the rollers, allowing a natural sawing motion. The magnet is recessed slightly below the plane of the rollers, so there is no scraping of the saw. Once the user gets the feel for the sawing plane, the saw guide exerts no noticeable constraints on the sawing motion, but continues to guide the saw to provide a clean cut at the desired compound angle. A "V" groove on the bottom of the guide aligns the Magnetic Saw Guide to dowels, railings and other round stock.
Keep a HinesLab Magnetic Saw Guide in your tool box for that next project, whether you're building a picnic table or the next Spruce Goose.
---
Hines' original notebook entries.
---
The Magnetic Saw Guide is not a product for sale to end users, but is a patented device available for license to OEM tool manufacturers. Please contact Steve Hines for more information and to discuss licensing. HinesLab currently offers a variety of licensable technology, as well as consulting engineering.
Glendale, California, USA