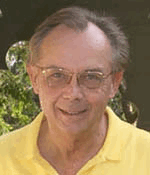 HinesLab is an independent R&D company, established in 1983 by Steve Hines offering engineering consulting and development of photographic equipment, miniaturized cameras, auto-stereoscopic 3-D displays, and flight-simulator optics.
Steve is an inventor and former Sr. Research Physicist with the Kodak Research Laboratories, and holds 28 patents on optical and mechanical inventions. HinesLab also offers manufacturing licenses for many of the technologies shown here.
---
MOTION PICTURE EQUIPMENT
| | | | | |
| --- | --- | --- | --- | --- |
| | | | | |
| | | — | — | — |
.3-D PROJECTS
.OPTICAL PROJECTS
.
OPTO-MECHANICAL PROJECTS
.MECHANICAL and ELECTRICAL PROJECTS
.
INDUSTRIAL DESIGN AND ART
.
on a diner

Tudor Terminal

Internal Kodak Research Equipment

Stereo Radio

Design exercise

Oscilloscope

Design exercise

College Summer Program

Wall Clock

Design exercise
---
Patents awarded:
1. Folding Microfiche Viewer, U.S. Pat. 4,157,214
2. Camera with flash through viewfinder, U.S. Pat. 4,279,488
3. Micro-bellows for folding camera, U.S. Pat. 4,279,492
4. Counterbalanced Camera-Image Stabilizer, U.S. Pat. 4,290,684
5. X-Y Microfiche-Positioning Mechanism, U.S. Pat. 4,374,611
6. 3-D Motion-Picture Camera Rig, U.S. Pat. 4,557,570
7. Dual-camera 3-D rig (the StereoCam™), U.S. Pat. 4,650,305
8. Cylindrical Catadioptric Infinity Display, U.S. Pat. 4,653,875
9. Variable Light Attenuator for high-energy lasers, U.S. Pat. 4,664,484
10. Digital Sundial, U.S. Pat. 4,782,472
11. Autostereoscopic-Video Display (3-D TV without glasses), U.S. Pat. 5,430,474
12. Autostereoscopic-Video Display (3-D TV without glasses), U.S. Pat. 5,614,941
13. Cordless Computer Mouse, U.S. Pat. 6,111,563
14. Lensless Camera Viewfinder, U.S. Pat. 6,122,455
15. Optical Retroreflective Remote Control, U.S. Pat. 6,344,846
16. Holo-Box Aerial-Image Display, U.S. Pat. 6,817,716
17. Magnetic Saw Guide, U.S. Pat. 7,249,552

18. Vehicle Parking Apparatus, U.S. Pat, 7,375,621

19. Covert Wide-Angle Camera Adapter, U.S. Pat. 7,460,777

20. Emergency Water Packet, U.S. Pat. 7,682,639

21. Solar Tracker, U.S. Pat. 7,799,987

22. Lighted Subway Signage, U.S. Pat. 7,827,712

23. Lighted Subway Signage using Reflected Light, U.S. Pat. 7,870,686

24. Projected Autostereoscopic 3-D System, U.S. Pat. 7,874,678

25. Mini 3-D Camera Rig, U.S. Pat. 7,948,515

26. 3-D Camera Rig with No-Loss Beamsplitter Alternative, U.S. Pat. 8,228,373
27. Reverse-Depth Signage, U.S. Pat. 8,336,238
28. Reverse-Depth Architecture, U.S. Pat. 8,584,414
Patents pending:
1. Popix3D™ 3-D iPhone and iPad app, provides 3-D headshots to view without glasses
.
---
PROFESSIONAL EXPERIENCE
• HinesLab, Inc., Glendale, CA, 1983-present. Inventor, developing optical systems and 3-D photographic equipment.

• WED Enterprises (Walt Disney Productions, R&D), Glendale, CA, 1980-1983. Project engineer, Research and Development Department. Designed 3-D camera rig used to film "Magic Journeys" and "Captain Eo" for Disneyland and EPCOT Center. Developed interactive imaging display devices, optical projection systems and motion bases for simulator theaters in theme parks.

• Eastman Kodak Co. (Research Laboratories), Rochester, NY, 1969-1980. Senior Research Physicist. Conceived and implemented solutions to basic problems of physics, optics and photography (autofocus techniques, reflective imaging optics, continuous-motion motion-picture camera/projector optics, 3-D imaging techniques, and Moiré pattern research.)

• General Motors, Warren, MI, summer of 1968, Designer, Student Summer Program. Developed, illustrated, modeled and presented a car of the future, including projected map and navigation system and new construction techniques.

• Benson Aircraft Corporation, Raleigh, NC summer of 1967. Research and Development Department. Conceived and engineered in-flight trim control mechanisms for autogyros.

• U. S. Navy, 1960-1963. Machinist (MR-3). Machined metal and plastic parts with lathes, milling machines, etc. Navy travel: San Diego, Norfolk, Florida, Scotland, Ireland, New York, St. Thomas, V.I., Bermuda, Bahamas.

---
Consulting:
Providing optical and mechanical engineering, specializing in large-scale flight-simulator optics, photographic equipment and stereoscopic camera equipment and stereoscopic and auto-stereoscopic (3D without glasses) displays.
---
CLIENTS at HinesLab (partial list):
Apple Computer Co.
DARPA; Phase I SBIR
Eastman Kodak Co.
EG&G
Ford Motor Co.
Iwerks Entertainment
Jet Propulsion Laboratory (NASA)
Naval Ocean Systems Center
Offshore Technology Corp.
Perceptronics, Inc.
Sony Pictures High Definition Center
Toyota Motor Co.
Walt Disney Pictures
---
EDUCATION
UCLA; Lens Design (1985)
USC; Special Effects in Film Making (1982)
University of Rochester, New York; Institute of Optics, course in Optics (1978)
Royal College of Art, London, England; graduate program, Design Research (1974-1975)
Rochester Institute of Technology; courses in Drawing, Film Making (1973)
North Carolina State University; Bachelor's degree in Industrial Design (1969)
---
PROFESSIONAL SOCIETIES
Optical Society of America (OSA), speaker.
Society for Information Display (SID), speaker.
Society of Motion Picture and Television Engineers (SMPTE).
Society of Photo-Optical Instrumentation Engineers (SPIE), speaker and co-chair.
National Stereoscopic Association, speaker.
---
Comments
• "I love your new invention, it's the best thing I have seen in years." Grayson Marshall, Feb. 2008.

• "I have a client with many inventions in the optics field who has maintained a truly impressive lab book filled with his inventions over the years. His notebooks are by far the best example of an invention disclosure notebook I have seen in 25 years working as a patent attorney", Roy Anderson, March 2007.

• "I certainly agree with your new patent attorney that your notebooks are probably best ever written and especially ever illustrated", Warren Kurz, former Kodak patent attorney, March 2007.

• "I just want to say your inventions are so amazing, it would be great if China have more people like you rather than people with professor hat but write papers only", Shirley Lin, China, March 2007.

• "a brilliant inventor…", "remarkable invention…", "Hines is technicall